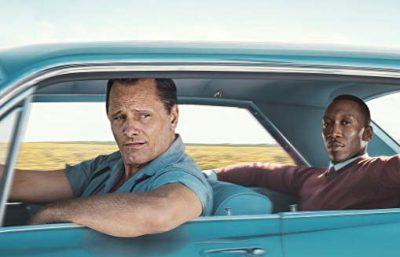 When Tony Lip (Viggo Mortensen), a bouncer from an Italian-American neighborhood in the Bronx, is hired to drive Dr. Don Shirley (Mahershala Ali), a world-class Black pianist, on a concert tour from Manhattan to the Deep South, they must rely on The Green Book to guide them to the few establishments that were then safe for African-Americans. Confronted with racism, danger as well as unexpected humanity and humor, they are forced to set aside differences to survive and thrive on the journey of a lifetime.
Green Book won the 2019 Oscars for Best Original Screenplay, Best Supporting Actor (Mahershala Ali), and Best Picture. In addition, Viggo Mortensen was nominated for Best Actor. See IMDB for a list of the film's many other awards and nominations. Released on DVD/Blu-ray March 2019.
Articles about Green Book
Rex Reed gives Green Book 4/4 stars and names it "one of the best and most memorable films in a decade." He shares his own not particularly flattering memories of Dr. Don Shirley ("a pretentious Jamaican musician so improvisational he couldn't play anything straight"), but delights in "the adventures of this unlikely odd couple [that] provide rich, hilarious and heartwarming material for a film that will leave you cheering." He applauds Mahershala Ali, who "more than lives up to his hype," and is effusive about Viggo Mortensen: "Words cannot describe how wonderful, real and three-dimensionally human he is.... Sporting a Bronx accent, a spare tire around his belly, a ton of gained weight and a cigarette dangling from his mouth, he's a slob and a goon, but in no time you believe you know him from a thousand possible places, and he grows on you, like a tight shoe you can't do without."

Peter Travers gives high marks to the Green Book director and cast: "Ali, a Best Supporting Actor Oscar winner for Moonlight, is superb at finding the buried rage in a refined artist challenging fellow Americans who never accepted the abolition of slavery.... The role is a game-changer for [Mortensen], whose dramatic chops are a given but proves he's got a real flair for comedy that feels revelatory. He and Ali could take their own double act on the road." The reviewer concludes that "in a time when our nation is more divided than ever, the movie offers the possibility of redemption. Thanks to the dream team of Mortensen and Ali, audiences will be cheering."
Production Stills
Credit: ©Patti Perret/Universal Studios
Screen Captures from Trailer
Green Book Trailer, TV Spots, & Clips
Includes the official HD trailer and 30-second TV spot. Only one clip so far but more will come as available.
Interviews with Viggo Mortensen & Mahershala Ali
This Green Book playlist contains interviews with Viggo Mortensen, Mahershala Ali, and other members of the cast and crew of Green Book. The newest are added to the top of the list. I also added a reading by Mahershala Ali from "Portraits of Langston," just because I liked it.
Historical Context
Green Book is based on a true story about a real-life tour of the Deep South in the 1960s by Jamaican-American classical pianist Don Shirley and New York bouncer Tony Lip, who served as Shirley's driver and security.
The title and subject matter reference The Negro Motorist Green Book, which was published from 1936-1966. The guide was critical to helping African-Americans find lodging and businesses that weren't segregated, especially in the South where white supremacists enacted so-called Jim Crow laws.
Here are a few videos that provide background information on the Green Book and Dr. Shirley. The "Traveling while black" video is from a Washington Post article that explores what people of color had to deal with when traveling in the southern states during the Jim Crow era.
If you like the excerpt from Shirley's Orpheus in the Underworld suite, we recommend this playlist that includes the entire album.
Poster & Behind the Scenes
Green Book Original Soundtrack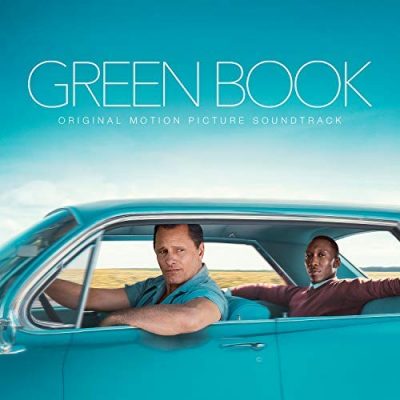 The Green Book Original Motion Picture Soundtrack album became available for digital download on Amazon
and Apple Music Nov. 16, 2018. It will be released on vinyl Nov. 30 and on audio CD Dec 7.
I gave it 5 stars on Amazon: "I purchased the digital download this morning and have cycled through all the tracks three times so far. I found it to be great music for relaxed listening, enjoying with friends, or background while working at the computer. Since Don Shirley was touring as a classical pianist, I expected some classical pieces but these are a mix of popular R&B music of the time and piano jazz. Shirley had a reputation for incorporating elements of classical music into his jazz tunes, and Kris Bowers has followed his lead. I'm happy with the results and looking forward to seeing the movie when it comes to town next week!"
We posted some more Green Book soundtrack information and references on the blog.
Track list:
That Old Black Magic – The Green Book Copacabana Orchestra
881 7th Ave – Kris Bowers
So Long Lovers Island – The Blue Jays
Dr. Shirley's Luggage – Kris Bowers
I Feel Fine – Kris Bowers
A Letter From My Baby – Timmy Shaw
You Took Advantage Of Me – The Blackwells
Blue Skies – Kris Bowers
Dear Dolores – Kris Bowers
Vacation Without Aggravation – Kris Bowers
Cookin' – Al Casey Combo
What'cha Gonna Do – Bill Massey
Water Boy – Kris Bowers
Dearest One – Jack's Four
Field Workers – Kris Bowers
I Got A Call / The Exception – Kris Bowers
Makeup For Wounds / It's A Complicated World – Kris Bowers
Happy Talk – Kris Bowers
I Love My Baby – Bobby Page and The Riff-Raffs
Governor On The Line – Kris Bowers
Need Some Sleep – Kris Bowers
Make The First Move – Kris Bowers
Lullaby Of Birdland – Kris Bowers
Let's Roll – The Orange Bird Blues Band
Backwood Blues – The Orange Bird Blues Band
The Lonesome Road – Kris Bowers
Mmm Love – Bob Kelly
Thanks Officer – Kris Bowers
If You Want Me To – Kris Bowers
Thank You For The Letters – Kris Bowers
The Lonesome Road – Don Shirley