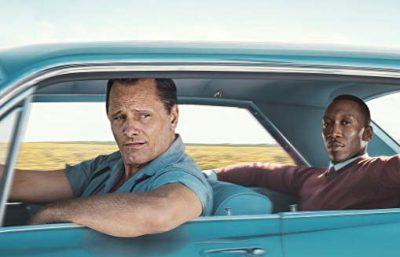 Coming to theatres November 21, 2018!
When Tony Lip (Viggo Mortensen), a bouncer from an Italian-American neighborhood in the Bronx, is hired to drive Dr. Don Shirley (Mahershala Ali), a world-class Black pianist, on a concert tour from Manhattan to the Deep South, they must rely on The Green Book to guide them to the few establishments that were then safe for African-Americans. Confronted with racism, danger as well as unexpected humanity and humor, they are forced to set aside differences to survive and thrive on the journey of a lifetime. (Official synopsis.)
Brego Review
We are so excited about Green Book! From the trailer, articles, and interviews, here are some things we've noted:
Tony Lip is so different from Viggo's other characters. He tends to play people who are learned, and either noble or very clever criminals. Tony is Everyman, no pretense.
Viggo as Tony also looks different — he had to pack on a paunch for the role. Listen to some of the interviews and you'll hear Mahershala teasing him about all the pizza, pasta, and desserts he was eating.
While the trailer hints at some dark times, this sounds like a pretty darned happy, feel-good movie. Lots of humor and affection. As much as I love Eastern Promises and History of Violence, it's wonderful to have a Viggo movie I can recommend to all my friends, including the young and the squeamish!
I haven't seen Mahershala act before (I watch only 1-2 movies/year), but love him in the trailer. From their banter in joint interviews, it's evident that he and Viggo have developed a friendship and a great deal of respect for each other. It's a pleasure to see.
Can't wait!!
Articles about Green Book
Peter Travers gives high marks to the Green Book director and cast: "Ali, a Best Supporting Actor Oscar winner for Moonlight, is superb at finding the buried rage in a refined artist challenging fellow Americans who never accepted the abolition of slavery.... The role is a game-changer for [Mortensen], whose dramatic chops are a given but proves he's got a real flair for comedy that feels revelatory. He and Ali could take their own double act on the road." The reviewer concludes that "in a time when our nation is more divided than ever, the movie offers the possibility of redemption. Thanks to the dream team of Mortensen and Ali, audiences will be cheering."

Interesting video interview with Viggo Mortensen, Peter Farrelly, and Mahershala Ali focuses on the true story behind Green Book and how they hope it will impact the viewers. As Ali points out, Shirley didn't have to tour the segregated American South. "Going down through the segregated South during this time was really a choice to put himself on the front line and expose the South and that community to a man that was educated, cultured and intelligent in a manner that went beyond the stereotypical point of view of a white Southerner at that time. He was there trying to push the boundaries by his sheer presence." Mortensen says he expects people who watch the film will be "affected by what Mahershala's character goes through, what we go through, and the lessons my character learns on this journey."
Production Stills
Credit: ©Patti Perret/Universal Studios
Screen Captures from Trailer
Video Trailers & Interviews
Our Green Book playlist includes the official HD trailer and 30-second TV spot, plus Interviews with Viggo Mortensen, Mahershala Ali, and other members of the cast and crew of Green Book. I also added a reading by Mahershala Ali from "Portraits of Langston," just because I liked it.
Historical Context
Green Book is based on a true story about a real-life tour of the Deep South in the 1960s by Jamaican-American classical pianist Don Shirley and New York bouncer Tony Lip, who served as Shirley's driver and security.
The title and subject matter reference The Negro Motorist Green Book, which was published from 1936-1966. The guide was critical to helping African-Americans find lodging and businesses that weren't segregated, especially in the South where white supremacists enacted so-called Jim Crow laws.
Here are a few videos that provide background information on the Green Book and Dr. Shirley. The "Traveling while black" video is from a Washington Post article that explores what people of color had to deal with when traveling in the southern states during the Jim Crow era.
If you like the excerpt from Shirley's Orpheus in the Underworld suite, we recommend this playlist that includes the entire album.
Poster & Behind the Scenes