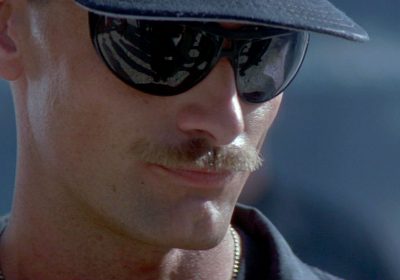 Lt. O'Neil (Demi Moore) has been recruited as the first female Special Ops trainee, and must prove herself against formidable odds. Not the least of these is Command Master Chief Urgayle (Viggo Mortensen) whose job is to put the recruits through hell to ensure that those who finish the program are tough and well-prepared enough to succeed when they face real-world challenges.
Film Review
The movie has been both criticized as sexist trash and acclaimed as a feminist statement, which made me curious to watch it and judge for myself. You may want to do likewise but be forewarned that there are several minutes of brutal physical violence. I found G.I. Jane to be painful and deeply moving, and like all good films it left me struggling with difficult questions. The performances of both Moore and Mortensen are excellent. Master Chief Urgayle has been described as "sadistic" in several reviews, which I consider to be inaccurate. His brutal treatment of O'Neil in the POW camp simulation seems to be driven more by dedication to his job than by a lascivious desire to inflict pain. It should also be noted that O'Neil taunts him as though she is demanding that he push the limits; in this film it is finally the only way that she is able to win the respect of her team. Whether this film's depiction of SEAL/CRT training is accurate, and whether such brutal training methods are necessary and/or morally justified, I will have to leave for another day or another reviewer.
Articles about G.I. Jane
Production Stills
We scanned a couple of these high-res images from printed materials we picked up on eBay (the confrontation with Stamm and the SERE waterboarding). The others came from MovieStillsDB.
Screen Captures
These screencaps are from the blu-ray version. We'll be adding more.
Trailer & Video Clips
Movie trailer, clips featuring Viggo Mortensen, and interviews with Viggo and Demi Moore.
Posters & Other Artwork
These high resolution posters and covers are part of the collection at CineMaterial. Yes, they have more! Personal use only; it's strictly forbidden to reproduce them as printed posters.
Film Soundtrack
Goodbye, The Pretenders
Homecoming, The Pretenders
Mama Told Me (Not to Come), Three Dog Night
Feel Like Makin' Love, Bad Company
Dimples, John Lee Hooker
Two Wrongs Won't Make Things Right
Future Is a War, Auntie Christ (Excene Cervenka)
Conspiracy
Time to Reflect
Endurance
Note: the aria played while the trainees are trying to write the reasons they love the Navy (and stay awake) is "O mio babinno caro" from Puccini's opera Gianni Schicci. It is not on the soundtrack, but the opera is available from Amazon.com. If you are interested in Trevor Jones' original score, see the track listing at SoundtrackNet.