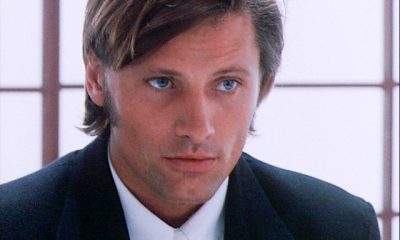 The Yakuza, Japanese mafia, are moving in to southern California. When Nick Davis (Mortensen) is released from prison, he finds work at a Yakuza-owned company, and through a series of adventures is accepted into the powerful Tendo crime family.
Spoiler Alert
If you haven't already seen this film, I recommend watching it before reading the video jacket or reading a full review, as the unexpected plot twists are part of the enjoyment.
Film Review
Viggo Mortenson plays David Brandt, an FBI agent working undercover as an ex-convict (Nick Davis) who needs a job. He infiltrates the Tendo family almost too successfully. The Tendo adopt him, while the FBI sabotage his work, leading Brandt to face a crisis of loyalty. Mortensen and Ryo Ishibashi, who plays the local Tendo leader, work beautifully together to create a story of honor and friendship.
The plot is a bit loose, and some of the mafiosi need to take acting lessons, but the story is believable, the action is intense, and the characters well-drawn. It's a hoot to see Viggo as action hero, guns blazing as he flies through the air. A great film for Viggo Mortensen fans, because he is in almost every scene, and a good evening's entertainment for others.
Articles about American Yakuza
Production Stills & Behind the Scenes
Several of these images were found on Anzu Lawson's Instagram account.

Screencaps
Thanks to sagralisse for sharing her screen captures from American Yakuza.
Trailer & Video Clips
Our American Yakuza playlist includes two trailers, several clips featuring Viggo Mortensen, and an excerpt from the soundtrack.
Posters & Other Artwork
These high resolution American Yakuza posters and DVD covers are part of the collection at CineMaterial. Yes, they have more! Personal use only; it's strictly forbidden to reproduce them as printed posters.
Film Soundtrack
The American Yakuza soundtrack features an original score by David C. Williams. We haven't been able to find a soundtrack CD, but the YouTube playlist above includes two tracks: "Main Title" and "Ceremony."
Williams also composed the OST for The Prophecy.
Also credited are several popular songs, including two by X-Piracy. That persistent "yada yada" song on the cassette tape in the van is "Won't Be Long" by the Bubble Gum Brothers. There are several versions on YouTube, including this live performance video and this karaoke version with the lyrics overlaid.