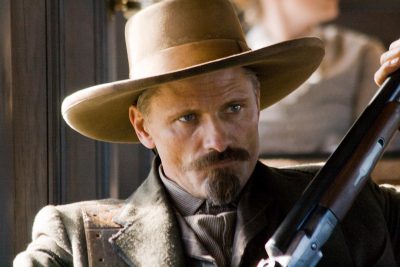 The western town of Appaloosa, terrorized by a rancher and his thugs, hires Virgil Cole (Ed Harris) and his sidekick Everett Hitch (Viggo Mortensen) to establish law and order. A lovely widow sets her sights on Cole, complicating the men's job and testing their partnership.
The film is based on the book Appaloosa by Robert B. Parker. The book is a short novel and a great read. The characters Virgil Cole and Everett Hitch are well-drawn, with wry humor and great respect in spite of their eccentricity. The dialogue alone makes the book worth reading.
Everett Hitch is the book's narrator, and Viggo Mortensen as Hitch does provide a background narration in some of the beginning and ending segments of the film.
Articles about Appaloosa
Viggo Mortensen can swing a broadsword as Aragorn or neatly fillet a Russian mobster. But off-screen, the Oscar contender is a life-giving force, playing big brother to a band of poets, painters, and searchers like him.
Trailer & Video Clips
Official Appaloosa trailer, HD clips, and interviews with Viggo Mortensen & Ed Harris.
Posters & Other Artwork
These high resolution posters and covers are part of the collection at CineMaterial. Yes, they have more! Personal use only; it's strictly forbidden to reproduce them as printed posters.
Of the Appaloosa posters, Ryan Adams of Awards Daily asked, "Minus 5 points for failure to fully commit to sepia? Or plus 5 points?" (As you can see, though the US posters are all sepia-ish, some from other countries sport warmer flesh tones.)
Adams went on to ask a bonus question: "How many peculiar things would one need to add to Viggo Mortensen's face before he ceases to be hot?"
Wallpapers and Book Cover
Film Soundtrack
Emmy winner Jeff Beal composed the original film score for Appaloosa. We especially enjoyed track 24 in the "Jeff Beal – Appaloosa OST (Part 6) clip" video, which features Ed Harris singing "You'll Never Leave My Heart," which Ed wrote.