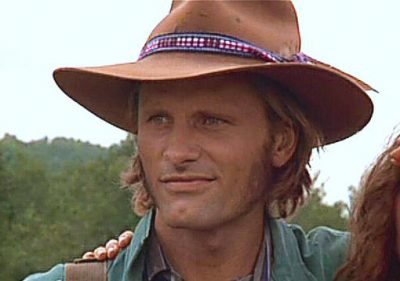 It's 1969, the "summer of love", in upstate New York. Pearl Kantrowitz (Diane Lane) is a married woman in her early 30s who is feeling stuck. With her husband away, she indulges her attraction to the "blouse man" Walker Jerome (Viggo Mortensen). She experiences wonderful new things, including making love under a waterfall and a day at Woodstock, but of course her actions threaten not only her marriage but the welfare of her two children.
Film Review
Liev Schreiber, Anna Paquin, and Tovah Feldshuh provide strong support as Pearl's husband, coming-of-age daughter, and mother-in-law, respectively. All the characters are played as multi-dimensional, deeply caring people who are going through difficult transitions. Perhaps things work out a little too easily but I enjoyed the movie thoroughly.
If you've watched this movie on TV, you know that some of the scenes between Viggo and Diane are quite intimate, even erotic. But you may not realize that the best bits were censored for TV. Their omissions also make the TV version somewhat choppy and confusing.
Articles about A Walk on the Moon
Trailer & Video Clips
Trailer for A Walk on the Moon, plus video clips.
Posters & Other Artwork
Film Soundtrack
1. Sunlight – The Youngbloods
2. Town Without Pity – Mandy Barnett
3. Wishin' and Hopin' – Dusty Springfield
4. Sally Go Round the Roses – The Damnations TX
5. Summertime – Big Brother & the Holding Company
6. Crystal Blue Persuasion – Morcheeba
7. Today – Jefferson Airplane
8. Embryonic Journey – Jefferson Airplane
9. Cactus Tree – Joni Mitchell
10. Ripple – The Grateful Dead
11. Helplessly Hoping – Taxiride
12. No Matter What You Do – Mojave 3
13. Who Knows Where the Time Goes? – Judy Collins
14. White Bird – It's a Beautiful Day
15. Follow – Richie Havens
16. Crimson & Clover – Elijah Blue