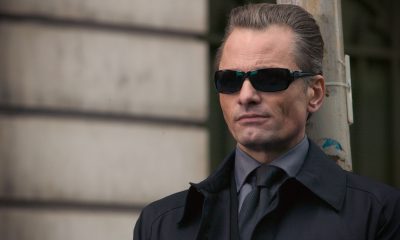 Anna Khitrova (Naomi Watts), a London hospital's midwife, witnesses the death of a young girl giving birth on Christmas Eve and decides to search for the girl's family and identity. The search leads Anna into the core of an underground sex-trafficking business operated by Semyon (Armin Mueller-Stahl), a member of London's Russian crime circle.
Nikolai Luzhin (Viggo Mortensen) serves Semyon as driver and the family "cleaner", removing evidence and dumping murdered bodies in the River Thames. He is also charged to be a companion, bodyguard, and example for Semyon's son Kirill (Vincent Cassel), who is something of a disappointment to his father. Luzhin tries to scare Anna away from her investigation; when that fails he becomes a protector and ally, jeopardizing his own position in the family.
Film Review
I'm not fond of pain and violence in films, but I am a fan of Viggo Mortensen, so I asked some friends to join me to see Eastern Promises. We were all blown away by the film, and are already scheming a way to see it again!
It is dark, and there is explicit violence, but it is contained in small pieces and is not gratuitous. It feels like just enough to make clear how high the stakes are.
Having heard the scuttlebutt, I fully expected to appreciate Viggo's performance, and he exceeded my expectations. The accent, his bearing, the contrast between his behaviors in different situations — he inhabited this character thoroughly.
I wasn't sure what to expect from the rest of the cast, but they were outstanding. Armin Mueller-Stahl (Semyon) had such a chilling menace under his sweet papa veneer, and Vincent Cassel (Kirill) was sadly believable as his dissolute and disappointing son. I was especially struck by their scenes with the children — Semyon showing them how to find the heart in the violin, and Kirill blowing up balloons for them. I found myself wondering how they could be so kind and caring with them and so callous with girls who were only 5-8 years older.
The film left me satisfied and yet wanting more. Sequel, anyone? :)
Articles about Eastern Promises
Production Stills
Most of these images were found at MovieStillsDB.
Trailer Screencaps
I captured these from the Eastern Promises trailer that came out in 2007. It was high-definition so they've held up pretty well.
Videos
Viggo Mortensen in Eastern Promises, including trailer, video clips, and interviews with Viggo and David Cronenberg.
Eastern Promises Wallpaper
Likewise found at MovieStillsDB.
Posters & Covers
These and many more can be found at Cinematerial.
Soundtrack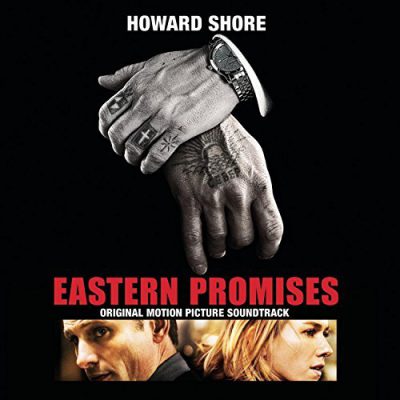 The Eastern Promises soundtrack features original compositions by Howard Shore, along with music based on traditional Russian melodies. Heavy on violin and other strings, the music is beautiful and moving.
Amazon lists the tracks as:
Eastern Promises
Tatiana
London Streets
Sometimes Birth and Death Go Together
Trafalgar Hospital
Vory V Zakone
Slavery and Suffering
Nikolai
Kirill
Anna Khitrova
Eagle and Star
Nine Elms
Like a Place in the Bible
Trans-Siberian Diary