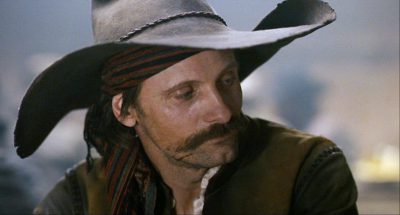 In 17th century Spain Diego Alatriste (Viggo Mortensen), a brave and heroic soldier, is fighting in his King's army in the Flanders region. His closest friend, Balboa, falls in a trap and, near to death, asks Diego to look after his son Íñigo and teach him to be a soldier. An assassination plot, dual romances, and battles complicate Alatriste's life.
Based on the series of books by Arturo Pérez Reverte, Las aventuras del capitán Alatriste. The film incorporates elements from many of the books in the series.
Alatriste's love interest in the film is María de Castro, played by Ariadna Gil. Ms. Gil also played Katie, the love interest of Viggo Mortensen's character Everett Hitch in Appaloosa. In real life she and Viggo have been romantic partners since 2009.
Articles about Alatriste
Publicity Stills
These images from Alatriste were sourced from all over, with special thanks to Christina, a young Greek woman who has a marvelous Viggo collection on Flickr.
Trailer & Video Clips
Trailer for Alatriste, plus video clips featuring Viggo Mortensen, "making of" videos, and an interview with Viggo.
Posters & Other Artwork
These high resolution Alatriste posters and DVD covers are part of the collection at CineMaterial. Yes, they have more! Personal use only; it's strictly forbidden to reproduce them as printed posters.