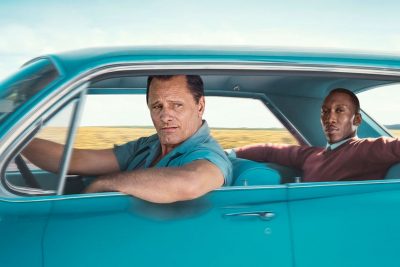 Dr. Don Shirley (Mahershala Ali), an African-American classical-trained pianist [is] on a jazz-trio tour in a part of 1960's America that's not prepared to embrace integration. In his search for a chauffeur, Don makes the curious choice of Frank Anthony Vallelonga, a.k.a. Tony Lip (Viggo Mortensen), a loudmouth Italian cliché temporarily off the Mob payroll as a bouncer back in New Yawk. They sure as hell don't get off to an amicable start, with Don sitting like a king in a chic apartment above Carnegie Hall. Tony tells his client that he's open-minded, claiming that "my wife and I had a couple coloreds over for drinks." (In an earlier scene, two black men working in Tony's home drink from glasses that he later trashes.)
What follows is a reverse twist on Driving Miss Daisy, as the duo set off on an eight-week concert tour filled with dangerous obstacles. Driver and passenger have two things on their side: Tony's muscle and The Negro Motorist Green-Book, a travel guide published from 1936 to 1966 to assist black travelers about where to stay and what to avoid in the Jim Crow South. Welcome to Green Book, the winner of the Toronto Film Festival's People's Choice Award this year that's "inspired" (that word!) by their real-life friendship.
Famed for the gross-out comedies he made with his brother Bobby — dump all you want on Dumb & Dumber, but Kingpin is immortal — Peter Farrelly's impressive solo directorial debut the movie's shifting tones; co-written by Farrelly, Brian Hayes Currie and Tony's son, Nick Vallelonga, the script is filled with a piercing gravity that deepens the funny business. There are easy laughs when Tony teaches Don about the wonders of fried chicken while the musician helps his driver write letters home to his wife, Dolores (Linda Cardellini). And there are also bruising glimpses into a time when 
racial profiling had the law on its side. Green Book is a movie about class as well as race, and Farrelly rightly refuses to paint a pretty picture.
Ali, a Best Supporting Actor Oscar winner for Moonlight, is superb at finding the buried rage in a refined artist challenging fellow Americans who never accepted the abolition of slavery. He makes us see that Don is on his own when it comes to finding a place to belong. And the actor, who had help from a pianist double in the club scenes, is simply stupendous at showing Don alive in his art. Tony senses his genius, but is horrified that Don doesn't know Chubby Checker or Little Richard. "I'm blacker than you are," the working-class driver snaps.
Mortensen is terrific, having beefed up by 30 pounds to play this bruiser with a Bronx honk and the dazed realization that his fists can't change a damn thing. Sure, Tony roughs up white hypocrites who applaud the musician onstage and then bar him from their restaurants. But don't mistake him for another white savior. The role is a game-changer for an actor, whose dramatic chops are a given (see his Academy nods for Eastern Promises and Captain Fantastic) but proves he's got a real flair for comedy that feels revelatory. He and Ali could take their own double act on the road.
Green Book ends in a gush of Christmas-themed feel-good that will probably drive some folks nuts. But look closer and you'll see that 
Farrelly never forgets the shadows lurking outside the fierce but fragile connection that Don and Tony have forged over two mercurial months on the road. Simplistic? Maybe. But in a time when our nation is more divided than ever, the movie offers the possibility of redemption. Thanks to the dream team of Mortensen and Ali, audiences will be cheering. And they'll be right.