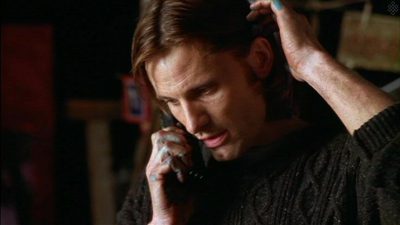 The husband (Michael Douglas) is a currency trader whose portfolio value is shrinking. The wife (Gwyneth Paltrow) is heiress to a $100 million fortune. The marriage is not a happy one, but the promise of long-term affluence keeps them together. The wife pursues an affair with David Shaw (Viggo Mortensen), an artist who gives her all the passion she doesn't get at home. The husband decides that his wife is worth more dead than alive.
Film Review
This remake of the Hitchcock classic, Dial M for Murder, is aesthetically appealing and the performances are strong. Still it seems to be missing its heart. The police inspector was the only character I felt I might enjoy getting to know better.
For Viggo Mortensen fans, there are a couple of rather steamy love scenes with Paltrow early in the movie, and of course the well-documented fact that the paintings in the artist's studio are Viggo's own works.
Articles about A Perfect Murder
Viggo comments on his pre-1999 movies, including

Prison

,

Leatherface

,

Reflecting Skin

,

Indian Runner

,

Crimson Tide

,

The Prophecy

,

G.I. Jane

,

A Perfect Murder

,

Psycho

. He also discusses his art and upcoming showings. Finally, when asked, "In twenty years, would you rather be remembered as an actor who painted or a painter who acted?" he replies, "I'd like to know that I was honest. I was myself as far as just being an artist and being an actor or poet or photographer or painter or whatever the hell. Being an artist is being an artist. So just be."
Film Soundtrack
Original score by James Newton Howard:
1. Main Title
2. Ever Been to Be to Belize?
3. That's Not Happiness to See Me
4. It's Too Late
5. Intruder
6. Attack
7. He's in the Kichen
8. Safe Deposit Box
9. Can You Ever Forgive Me?
10. You Take Care
11. What Happens If…?