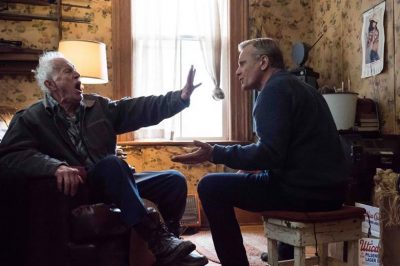 Viggo Mortensen will make his debut as a director with Falling, which started filming in Canada in March, 2019. Mortensen wrote the original screenplay, and will be one of the lead actors, along with Lance Henriksen and Sverrir Gudnason (photo right).
In February, 2019, Viggo Mortensen's film company, Perceval Pictures ApS/Perceval Pictures Ltd, launched a website at PercevalPictures.com featuring Falling. In a Director's Statement he details the genesis of the film:
The idea for FALLING came to me as I was flying across the Atlantic after my mother's funeral. I couldn't sleep; my mind was flooded with echoes and images of her and our family at different stages of our shared lives. Feeling a need to describe them, I began to write down down a series of incidents and snippets of dialogue I recalled from my childhood. The more I wrote about my mother, the more I thought of my father.
October 2018 Announcement
Viggo Mortensen announced October 15, 2018, that he would be making his debut as a director with Falling. Mortensen wrote the original screenplay, and will be one of the lead actors, along with Lance Henriksen and Sverrir Gudnason (in photo).
From the Hanway Films press release:
Acclaimed actor Viggo Mortensen explores the fractures and contrasts that make up a modern family in his directorial debut, FALLING, an intimate drama about a man's relationship with his aging father.

John Petersen (Mortensen) lives with his partner Eric and their adopted daughter Monica in Southern California. His father Willis (Henriksen/Gudnason) is a farmer whose attitudes and behaviour belong to a far more traditional era and family model. When Willis travels to Los Angeles for an indefinite stay with John's family in order to search for a place to retire, these two very different worlds collide.

Willis' behaviour can be both caustic and funny – with outbursts that shock his liberal family. This endears him to grand-daughter Monica, but it almost proves too much for John, bringing old wounds back to the surface and creating new ones along the way. With Willis' memory in rapid decline, his thoughts turn back to his first wife Gwen, a love that still consumes him a lifetime later. As father and son confront the events that have torn them apart, we see the gamut of their relationship over 40 years, and their differing recollections of John's mother, Gwen: from dark to light, from rage and jealousy through to acceptance, laughter, and hard-won grace."
Casting notes: we had initially assumed that Sverrir Gudnason would be playing Eric, but the above suggests that he is playing Willis in his younger days. And do you recognize Lance Henriksen from Appaloosa?
An article in the New York Times Style Magazine, October 15, 2018, mentioned that "[Viggo] has gone to Toronto to scout locations for a movie he's planning to direct. He tells me he's returned to a script he began writing back in the '90s, before his career took off."
Articles about Falling
Viggo Mortensen shares some of the personal experiences behind his upcoming film, Falling, and the process of creating the work. And a bit of politics.

Viggo Mortensen discusses his upcoming directorial debut,

Falling

. He outlines the film's story and its genesis in his own family dynamics, and shares his vision for the cinematography and score.