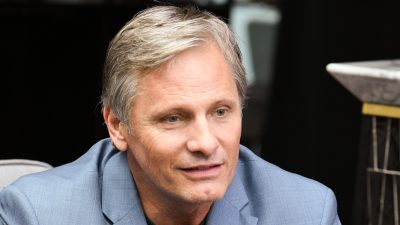 According to Dave McNary of Variety magazine (and echoed by the rest of the press), "Viggo Mortensen will write, produce, star, and make his directorial debut in Falling, a story of a son's relationship with his aging father." McNary
Mortensen wrote the screenplay and will play one of the two leading roles. The cast also includes Lance Henriksen and Sverrir Gudnason (The Girl in the Spider's Web). . . .

Mortensen will portray a man who lives with his male partner and their adopted daughter in Southern California. Henriksen will play a farmer whose attitudes and behavior belong to a far more traditional era and family model. When the father travels to Los Angeles for an indefinite stay with his family in order to search for a place to retire, these two very different worlds collide.
When it comes to living with an elderly parent, Viggo Mortensen has personal experience to draw on. He spoke with Lisa DePaulo of Esquire magazine in May, 2016, while he was caring for his father, who was bed-ridden and suffering from dementia:
Now his father has dementia. His mother had dementia, too. Viggo is terrified that he will also get dementia one day. He's thinking of being tested for the gene. But then what? We are driving down a gorgeous country road with farms on both sides. Some of this land until recently belonged to his dad. But some months ago, "he decided he was broke. He's not. I said, 'You have all this land, sell it if you think you're broke.' And he did." Lots of farmland. "Then he calls me up one night and says, 'Someone's on my property, I'm gonna shoot them.' I said, 'You can't fucking shoot them, you don't own it anymore!' "
My father also suffered from dementia, and I cared for him the last nine years of his life. He lived with me for three of those years. It was an honor to care for him, and an often difficult, heartbreaking time. I trust Viggo to bring heart and understanding–and humor–to the subject and am so looking forward to this film.
Read more in Variety: "Viggo Mortensen to Star, Make Directorial Debut in Family Drama 'Falling'." You can find the 2016 Esquire article here: "Why Viggo Mortensen is Off the Grid."