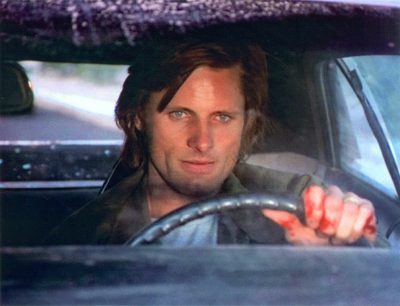 Vanishing Point is a sweet film, in which we see Viggo playing a man who is head over heels in love with his very pregnant wife. It's worth watching just to imagine yourself the woman who's getting breakfast in bed from Jimmy. Lots of flashbacks to their courtship and wedding, in between wild car-chase scenes. One could imagine it being designed as a couple movie: she watches the kisses and he watches the cars.
Note: this made-for-TV movie is a remake of the original 1971 Vanishing Point. Unlike the original, which was rated as "R for sensuality/nudity and drug content," the remake with Viggo is quite mild.
Film Review
I never saw the original. Consensus seems to be that the car is pretty much the same but the story has been sweetened up and mystified too much. If you're looking for great cinema, look elsewhere. The plot is hard to swallow, and the sweetness is a bit much. And the ending … well, I'll let you see for yourself. But if you just want to enjoy some light Viggo moments, you will enjoy Vanishing Point.
Articles about Vanishing Point
Publicity Stills & Behind the Scenes
Screen Captures
Posters & Other Artwork
Found these Vanishing Point posters and video covers at CineMaterial and IMDb.