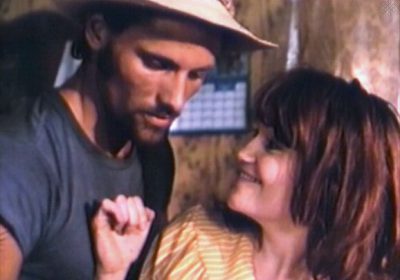 A troubled young woman (Exene Cervenka) hooks up with a money-crazed televangelist (Stephen McHattie) and becomes a rich, heavy-metal Christian rock star. Viggo Mortensen plays her husband.
This black comedy is a parody of televangelism, and was released right after the real-life Jim Bakker and Jimmy Swaggart scandals.
Film Review
Not a great film, but a chance for Viggo fans to see him acting opposite his ex-wife, Exene Cervenka. Lots of religious fanaticism, sex, music and motorcycles.
Still Images
Thanks to sagralisse for sharing her screen captures from Salvation!
Trailer & Video Clips
A collection of 18 video clips from Salvation!, curated by "McHattieFan" on YouTube.