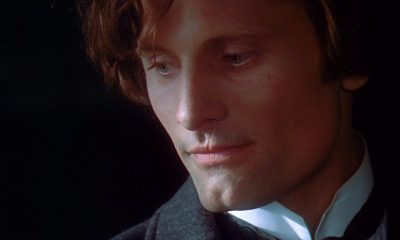 Headstrong American heiress, Isabel Archer (Kidman), travels to England. She tactfully rebuffs the advances of Caspar Goodwood (Viggo Mortensen), another American who has followed her there.
She also rejects the proposal of a decent, sensible English suitor, Lord Warburton (Richard E. Grant), because she wants to find her own destiny and identity first. Instead, she is seduced by Gilbert Osmond (John Malkovich), an effete collector of art (and women) whom one character describes as a "sterile dilettante." The film explores how Isabel's life, and the lives of those who love her, are affected by this fateful decision.
Based on a novel by Henry James.
Articles about The Portrait of a Lady
Hi-res Screen Captures
Just got a Blu-ray disc and pulled a few screen caps. Hope to do more soon!
Film Soundtrack
The 1996 soundtrack DVD, featuring the music of Franz Schubert and original works from Wojciech Kilar, is no longer listed on Amazon. However you may be able to find a used copy somewhere. Soundtrack Collector has all the details for both U.S. and German versions.