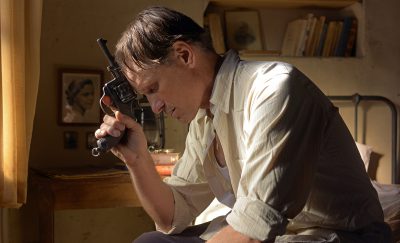 Set in 1954 in French Colonial Algeria, Loin des hommes follows Daru, a reclusive, pacifist, Algerian-born French teacher of Spanish descent (Viggo Mortensen). Daru is tasked with delivering Mohammad, a docile Algerian murder suspect (Reda Kateb), into the hands of French authorities just as the Algerian War of Independence ignites.
This French drama film directed by David Oelhoffen was released in English-speaking markets as Far from Men. It is based on a short story, "L'Hôte" (The Guest) by Albert Camus. Oelhoffen extended the original short story and adapted it for the screen. As additional source material, he used Camus' texts as a journalist, as well as another text called Algerian Chronicles, which Camus wrote in the '30s when he traveled to Kabylia.
Loin des hommes won nine awards at film festivals in Bucharest, Trondheim (Norway), Munich, and Rome, and was selected to compete for the Golden Lion at the 71st Venice International Film Festival.
Filmed in Morocco. Languages: French, Arabic.
Publicity Stills
These stills were found at Allocine.fr, a great resource for information on international films.
Video Clips
Our Loin des Hommes (Far from Men) playlist includes the official HD trailer and HD video clips, an interview with Viggo Mortensen, and a beautiful video of the original soundtrack by Nick Cave and Warren Ellis.
Other Media
These high resolution posters for Loin des Hommes / Far from Men are just a few of the variations at CineMaterial. You'll find more designs at Viggo-Works. They are intended for personal use only; it's strictly forbidden to reproduce them as printed posters. (And you'll notice that there's a magazine cover in the gallery, trying to disguise itself as a poster.)