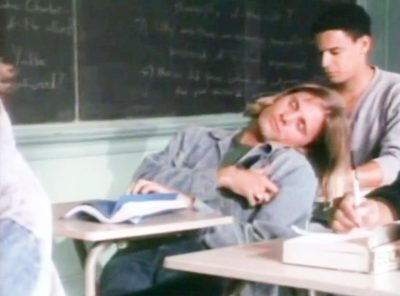 A 22-year-old police officer (Michael E. Knight) poses as a student to find the identity of a drug supplier at an inner-city high school in this episode of ABC's Afterschool Specials programs.
Viggo Mortensen plays a student named Tim, who is part of the stoner crowd. Tim arrives to school late, wearing mirrored shades, and then sleeps through most of the class. Later we see him trying to work on a car while the engine is running, as his hair falls into his eyes. He bangs his head on the hood as he stands up. As critic Steven Puchalski says, "method actor Viggo looks legitimately toasted."
Still Images
We found the first image on IMDb, and the rest are stills captured from the video clip below. If you find something better, let us know — we'd love to see it!
Video Clip
This 12-minute clip is fuzzy and leaves many questions unanswered, but it's still fun to see Viggo as a young stoner.