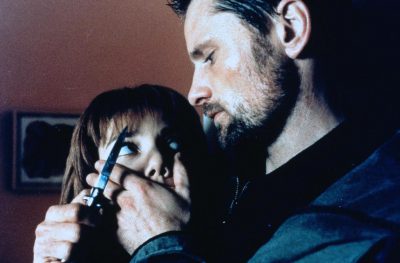 Julia, a bartender in Barcelona, has lost her lover to a brutal murder. Now there has been another murder, and an anonymous man is sending her letters and video tapes saying that he loves her. An undercover cop is hired as the replacement bartender. Will the police catch the murderer before someone else dies?
Amazon reviewer D.M. Aloot sums it up: "This film keeps the viewer engrossed with the story line and the mystery of the secret admirer who in the end you feel a great compassion for. Beautifully done. Nice film for Viggo Mortensen fans."
In Spanish (Castilian) with subtitles. Released as a Region 2 DVD but not available online. Let us know if you find a source!
Articles about Gimlet
DVD Covers