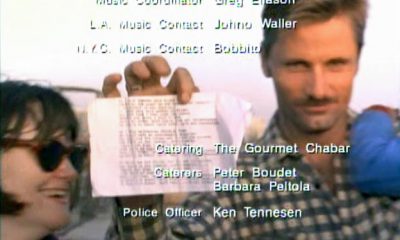 John Boyz (James LeGros) lives near Venice Beach. In the wake of the 1992 Los Angeles riots, he is "floundering," suffering from nightmares and uncertainty. His life is full of bizarre friends, sweaty sex, pistol-wielding gangsters, bungling bureaucrats, police fanatics, revolutionaries, and weirdos.
Viggo Mortensen, his ex-wife Exene Cervenka, and their son Henry Mortensen, play a homeless family. They are on-screen for less than two minutes, near the end of the film. Look for them also in the crowd singing "What's So Funny 'Bout Peace, Love and Understanding?" during the final credits.
Film Review
The adolescent angst gets old after a bit, but clever dialogue, a strong supporting cast, and original material make it enjoyable nonetheless.
As you can see, there's not a lot of Viggo in the film itself, but seeing Exene and Henry, with Viggo waving the song lyrics, is fun. Screen captures from the Floundering DVD by Brego.net.
Film Soundtrack
Frankly, the soundtrack is better than the movie. Some great songs, several were created for the film:
1. 3 AM – Pray for Rain
2. My Drug Buddy – Stan Ridgway
3. Shuffle – Drunken Boat
4. Racist Town
5. Lord Kill the Pain – Red House Painters
6. Not Over You – Basehead
7. Bikepath – Pray for Rain
8. Floundering – Stan Ridgway
9. Goodnight – Lifter
10. Fuel – Idaho
11. My Home Is a Burning – Robert Lucas
12. Desert Travel – Pray for Rain
13. Wut Ya Like
14. Sing a Powerful Song – The Saw Doctors
15. (What's So Funny 'Bout) Peace, Love and Understanding? – Chris Dowd