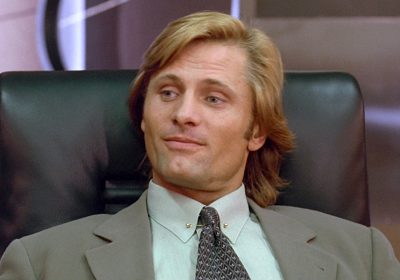 Compulsive rescuer Kit Latura (Sylvester Stallone) goes into the Holland Tunnel after after a fiery explosion has trapped people inside, and leads survivors to safety. Roy Nord (Viggo) is an arrogant adventure gear spokesperson who believes he can do a better job of the rescue and sets off in a different direction.
Nord has created an ad campaign for his business that is built on his own exploits in mountain climbing, kayaking, and other extreme sports. It's fun to watch Nord watching himself on the screen as he displays his latest advertising.
Publicity Stills and Movie Poster
Trailer & Video Clips
Trailer and video clips featuring Viggo Mortensen in the 1996 movie Daylight starring Sylvester Stallone.
Film Soundtrack
Original score by Randy Edelman:
1. Daylight
2. Latura's Theme
3. Searching for a Miracle
4. Survival
5. Kit's Plan
6. Community Is Formed
7. Leaving George
8. Rats
9. Tunnel Claims Its Own
10. Power!
11. Short Swim Under Water
12. Sandhog's Chapel
13. Light at the End
14. Madelyne's Fate
15. Whenever There Is Love – Bruce Roberts
16. Don't Go Out With Your Friends Tonite – Ho-Hum