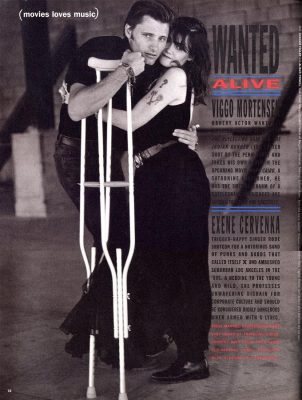 Viggo Mortensen
Ornery actor wantonly impersonates war veterans in The Reflecting Skin and The Indian Runner (the latter shot by the Penn sano) and fakes his own death in the upcoming movie Ruby Cairo. A saturnine Easterner, he has the smiling charm of a rattlesnake. Audiences are advised to watch him carefully.
Exene Cervenko
Trigger-happy singer rode shotgun for a notorious band of punks and bards that called itself X and ambushed suburban Los Angeles in the '80s. A heroine to the young and wild, she professes unwavering disdain for corporate culture and should be considered highly dangerous when armed with a lyric.
These married desperadoes were last heard of traveling cross country with their four-year-old varmint, Henry. Approach with a sense of foreboding.