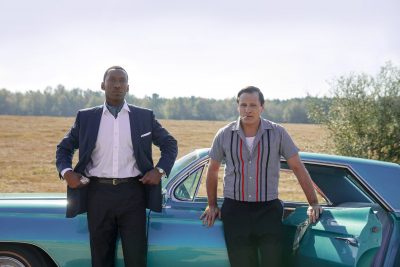 It's always a restorative relief when you cure an allergy, and I am overwhelmed with surprise to confess I am no longer allergic to the films of Peter Farrelly. With his brother Bobby, he has polluted past ozones with so much vulgar and abysmal garbage that whenever I see the Farrelly name stamped on an odious reel of film I run in the opposite direction. I refer to all Peter Farrelly films, actually, but Dumb and Dumber, There's Something About Mary and Hall Pass in particular. There's no cure for the toxins he spreads, but there is at least a temporary antidote. It is Green Book and it is enchanting.
This is the true story of a road trip in 1962 taken by renowned black jazz pianist Don Shirley (Mahershala Ali) and his white, unsophisticated, dese-dem-and-dose driver-bodyguard Tony "Lip" Vallelonga (another brilliant, mesmerizing turn by Viggo Mortensen) from the Bronx. No two people could be more diametrically opposed—culturally, financially, physically, or otherwise. Shirley was a pretentious Jamaican musician so improvisational he couldn't play anything straight. I never cared for his recordings and on the few occasions when I saw him in person on smoky stages like the Village Vanguard, he could make Gershwin sound like Berlioz and Berlioz sound like Brubeck.
Garbed in Caribbean caftans and West African robes, he called himself "Dr. Don Shirley," though he never received or owned a degree of any kind. Although he did cultivate a superior attitude toward people of all colors, his arrogance and literary manner of speaking made him an obvious target for racist violence, so embarking on a concert tour of the Deep South at the height of the Civil Rights movement would have been impossible without a tough, two-fisted escort to protect him. So while the Copacabana, where Tony worked as a bouncer, closed for renovation, it was "The Lip" who got the job. The adventures of this unlikely odd couple provide rich, hilarious and heartwarming material for a film that will leave you cheering.
The "green book" was a travel guide for African-Americans that listed safe hotels and restaurants in the segregated South, but Tony often supplemented it with both his loud mouth and his fists. He refuses to shine the star's shoes or iron his clothes, and he was not allowed to smoke. Part of his routine was to check the Steinway in every venue and make sure there's a fresh bottle of Cutty Sark in every dressing room. Tony taught him about Aretha Franklin, Bo Diddley and Little Richard. In exchange, Shirley tried to improve Tony's manners, diction, vocabulary and diet. Day by day, in towns like Macon, Georgia and Memphis, Tennessee, two diverse personalities from different educational backgrounds learn one of life's most important lessons—we're all in it together.
As trust and confidence grow, the two men learn other things about life—and each other. Tony teaches the "Doc" how to eat fried chicken and Shirley teaches him how to write a grammatically correct letter home to his wife. On the way to Raleigh, North Carolina, Tony is touched by the look on his boss' face when they stop the car to watch black laborers picking cotton. Looking back they see the doubly astonished expressions on the sweat-soaked faces of the children who have never seen a black man in a blue suit and an ascot.
Farrelly's script, co-written with Nick Vallelonga and Brian Currie, catalogues incidents in this gripping story with subtlety and sensitivity, from an after-hours highway honky tonk where Shirley lets down his guard and leads a jam session that rocks the joint, to an incident where Tony finds him naked behind bars after he was caught en flagrante with a gay white pickup, and cannot believe his eyes when "Doc" Shirley calls his friend, Attorney General Bobby Kennedy, to get him out of jail. By the time they return to New York safe and sound and the piano genius, lonely and lost, shows up at Tony's house on Christmas, anyone who doesn't have a lump in their throat is advised to check their pulse.
Witty and warm as cashmere, Green Book is a two-hander in which both stars soar with humor and heart. After playing a seedy drug dealer in Moonlight, Mahershala Ali more than lives up to his hype in a dignified change of pace. Viggo Mortensen? Words cannot describe how wonderful, real and three-dimensionally human he is as the driver who learns a lesson in tolerance that changes his life. Terrific as a Tolkien hero, a Russian gangster, or a dying father in a post-apocalyptic science-fiction universe, there's nothing he can't do. For Green Book, sporting a Bronx accent, a spare tire around his belly, a ton of gained weight and a cigarette dangling from his mouth, he's a slob and a goon, but in no time you believe you know him from a thousand possible places, and he grows on you, like a tight shoe you can't do without. His charm and charisma pay off handsomely in one of the best and most memorable films in a decade.
4/4 stars