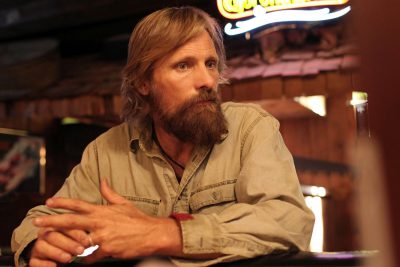 As an actor, Viggo Mortensen is best-known for his soulful and empathetic work, but he also happens to be a more well-rounded artist than his efforts in movies would solely let on. Although still widely recognized for maintaining a steady repertoire of onscreen ventures that have netted him accolades and critical acclaim, Mortensen is a painter, musician, photographer, poet, and author, too. His bibliography comprises tomes circling various subjects of art, totaling 19 credits. As an experimental musician, he has released 17 albums to date.
Already the multi-hyphenate that he is, Mortensen is unsurprisingly now adding filmmaker to his extended resume. Deadline reports that Falling will mark his directorial as well as screenwriting debut.
Notably, Mortensen is exercising plenty of creative control with this project, further taking up starring and producing duties on the picture. Lance Henriksen (Aliens) and Sverrir Gudnason (The Girl in The Spider's Web) will both feature in Falling. This reunites the former with Mortensen after their 2008 Western Appaloosa.
Falling will be a family drama about a son and his aging father as they work through their conflicting social and personal values. The film focuses on John Peterson (Mortensen), who lives in Southern California with his partner Eric and their adopted daughter. John's father Willis (Henrikson), a man steeped in much more traditional mores, eventually arrives in Los Angeles looking for a place to settle down in the wake of his retirement from his farming profession. In the meantime, he stays with his son indefinitely, forming an arrangement that certainly tests their opposing views.
Additionally, the Falling crew is shaping up to be noteworthy behind-the-scenes, with cinematographer Marcel Zyskind and production designer Carol Spier jumping aboard. This is especially significant given their roles in prior Mortensen movies, namely The Two Faces of January and Eastern Promises, respectively. These films are visually striking in their own right, which sets Falling up to be equally artistically sound.
Frankly, Mortensen couldn't have picked a better film to delve into directing with, because he often proves himself to be a master at embodying affecting drama. The actor only really made a huge break 15 years into his career. In the beginning, he was mostly relegated to supporting roles while working with famed directors like Peter Weir (Witness), Brian De Palma (Carlito's Way), Ridley Scott (G.I. Jane), and Jane Campion (The Portrait of a Lady). Moreover, a number of thrillers pepper Mortensen's earlier filmography. Gus Van Sant's ill-advised Psycho remake and Andrew Davis' forgettable Dial M for Murder redo titled A Perfect Murder are definitely much schlockier offerings.
But finally, after such rocky onscreen affairs, Mortensen made one of the few tentpole movies of his career. Indeed, Peter Jackson's The Lord of the Rings ended up being the big series of his career at the time. Mortensen's proclivity for translating understated pathos and depth on screen is paramount for the trilogy. His iteration of Aragorn is a perfectly grounded protagonist whose natural if reluctant rise to the mantle of an action hero is so easy to root for.
The Lord of the Rings brought another sizable flick titled Hidalgo Mortensen's way. However, more importantly, the fantasy trilogy then led him to collaborate with David Cronenberg, first on A History of Violence before they subsequently worked together on Eastern Promises and A Dangerous Method. These stylish films provide Mortensen with some of the most fascinating, multifaceted, and starkly individual characters of his career, and he's chameleonic in each one. Eastern Promises, specifically, resulted in his first Academy Award nomination.
In between Mortensen's Cronenberg offerings and his next Oscar nomination in Matt Ross' searingly funny and heartbreaking Captain Fantastic almost a decade later, the actor continued to be fairly selective with the projects he did. And that's certainly the reason that his consistently memorable appearances are truly ones to watch out for. To name a few, Alatriste, The Road, On the Road, The Two Faces of January, and Far from Men are all distinguishable from one another because they are thematically and narratively diverse (Mortensen doesn't even speak English in a couple of them).
Granted, Mortensen doesn't always save the stories he's in. For instance, On the Road is too draggy and dull overall. The Two Faces of January is too generic despite being very pretty. But he serves as a steady acting fulcrum nonetheless, whether he's carrying an entire film or playing an idiosyncratic character part. Despite the solemnity of Mortensen's movies, the inherent charm and drily funny sensibilities that he possesses gets to shine through at times. We'll actually even get to see much more of his openly witty side with his only 2018 release, Green Book, wherein he and co-star Mahershala Ali go toe-to-toe as wonderfully nuanced actors.
Hence, when Gabrielle Stewart, managing director of HanWay Films (which will handle Falling's international sales), calls Mortensen's directorial debut "a powerful, well-observed family drama," I'm inclined to believe her. Mortensen knows the value of a powerful performance within a variety of stories. Thus, to expect anything less from Falling seems to do his conscientiously curated film career a vast disservice.