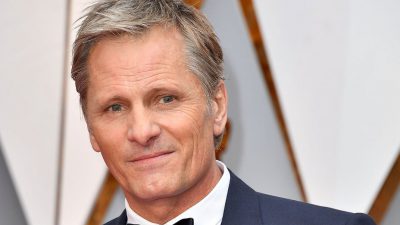 A Rome Film Festival regular, Viggo Mortensen returns to Italy on the back of strong reviews for his new film, Green Book, and particular praise for his performance as an Italian-American bouncer driving an African-American pianist to shows in America's South, in Peter Farrelly's film.
The multi-hyphenate star was last in Rome two years ago, where he announced that he was soon going to be adding another string to his bow, and direct his first feature. That project was confirmed this month when it was announced that he would direct the drama Falling. Billed as an intimate father-son relationship drama, Mortensen will play one of the lead roles alongside Lance Henriksen and Sverrir Gudnason.
Like most actors turned directors, Mortensen says he got his film education on set.
"I've been very lucky," he told The Hollywood Reporter. "I've had some great teachers over the years. I've been in more than one movie that most actors would be happy to just have that one in their career. I've been in many good stories and I've worked with great directors."
"There's one thing that I pay to attention to, apart from the technical aspects of storytelling, that I think is the most important on a human level and on a creative level," said Mortensen. "It's that no matter how different the tastes or the storytelling techniques of David Cronenberg or Matt Ross or Pete Farrelly, all of them share one thing in common: they're team players."
Even on Green Book, Mortensen saw, firsthand, the type of director he'd like to be. "Pete Farrelly, the first day of shooting, he got everyone around and said, 'before we start, I want everybody here,' the whole cast and crew, he said, 'I don't pretend to know everything. I have one chance to make this movie. I know that good ideas can come from anywhere and anyone, so please don't be shy, and always tell me what you think of things.'"
"Somebody, I'm sure, is going to give me an idea I haven't thought of. That idea of listening is the same with acting," he continued. "The foundation to good acting is good reacting, listening, paying attention to what's around you. That's how things can go from the level of good to the level of unexpectedly great."
Mortensen also knows, from his work on sets, exactly what kind of actors he wants to work with. "Mahershala Ali, he's not only a very talented actor, but he's a talented person in terms of his sensibility. He's very generous," said Mortensen. "A story about two guys in a car could be boring, even if the dialogue is good."
"But if you have someone on your side as an actor, who wants you to succeed in your job, because he knows that if you succeed, than the scene succeeds and he succeeds," he said. "When you listen to each other in that way, unexpected things can happen. Gifts can fall from the sky and you see them and you use them. The other person makes you better."