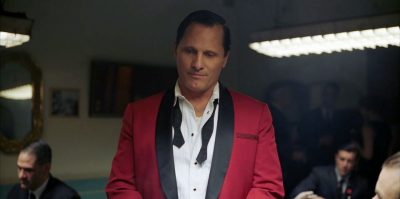 Actor Viggo Mortensen was hiding. He had been working the award-season circuit in support of his Oscar-nominated "Captain Fantastic" for what seemed like an eternity in late 2016 and early 2017 — a process he admits is to be endured as much as enjoyed — and all the glad-handing and small-talking at this particular soiree had worn him down.
"I just needed a breather," Mortensen said, calling recently to discuss "Green Book," his New Orleans-shot latest film. "I was with my son, and we just pull into a corner."
As it turns out, fellow nominee Mahershala Ali — who was working the circuit for his supporting turn in "Moonlight," a role that would see him win a 2017 Oscar — apparently had the same idea. Indeed, he had even found the same corner.
"I go, 'Hey, man, I love your work!' It was like we were both blurting it out at the same time," Mortensen said, chuckling at the memory.
Then they began what might have been the first honest, genuine conversation they had experienced all night. Maybe in weeks. The two instantly connected.
"I think we were both relieved we were in that corner and we didn't have to do the dog-and-pony show at that moment," Mortensen said. "So we just were like — a real conversation with a real person. And we ended that conversation, both saying almost simultaneously, 'Well, it would be great if we could do something together sometime, you never know.' 'Yeah, you never know.' 'Oh, well, OK. Good luck.'"
Flash-forward a few months. Mortensen, rested up from award season and looking for his next project, finds himself being courted by writer-director Peter Farrelly, who wanted desperately for him to play one of the two leads in his period drama "Green Book." Inspired by real events, it chronicles the shared journey of a prejudiced, rough-around-the-edges New York bouncer hired to accompany — and protect — an erudite African-American piano genius on a concert tour of the Jim Crow South.
By the time the closing credits roll, both characters have learned lessons about themselves, about each other — and about the perils of judging a book by its cover.
"My first question: 'Well, who's going to play (the other character)?,'" Mortensen remembered, "and Pete said, 'I don't know if we can get him, but I'm hoping Mahershala Ali will say yes. I'm meeting him tomorrow.'"
Mortensen was in. He admits to having initial reservations about taking the role — for starters, his character, named Tony "Tony Lip" Vallelonga, is Italian-American; Mortensen is Danish-American — but by then, he was all in.
It would mark the start of a journey for Mortensen and Ali that has been the buzz of Hollywood since the New Orleans-shot "Green Book" marked its world premiere at September's Toronto International Film Festival. Farrelly's film would leave that festival with the prestigious People's Choice audience award — and both actors would find themselves catapulted onto everyone's Oscar watch list.
From Toronto, "Green Book," which opens Wednesday (Nov. 21) in wide release, has played at a number of film festivals — New Orleans, Mill Valley, Virginia, Middleburg — and won additional audience awards at almost all of them.
One of the keys to the film's crowd-pleasing success, Farrelly said: that clear and enjoyable chemistry between Mortensen and Ali.
"The script, it had a bunch of smiles in it," Farrelly said at October's New Orleans Film Festival, where "Green Book" served as the opening-night film. "I didn't think laugh-out-loud (funny), but you'd go like, 'Oh, that's nice. This is nice.'
"Honestly, I don't' think there are two better actors in the world than these two guys. I guarantee you there's no movie this year that has two better actors in it," Farrelly continued. "… The small reactions that aren't on paper — when you see the actors doing it, what you realize, as we started going along, we started thinking, 'This is hilarious.' We really weren't aware of that until we were shooting."
Both performances also drew high praise from none other than Nick Vallelonga, one of Farrelly's two co-writers on "Green Book" (the other being Brian Currie) — and the son of the real-life Tony Lip.
"Viggo, he was a little hesitant, so he came and spent a lot of time with me and my family and we just kept feeding him," Vallelonga said. "The first day, we ate for like six hours. And he literally became my father."
Vallelonga had audio recordings of his father that Mortensen studied. There's also no small amount of film of Tony Lip, who was himself an actor, appearing in such films as "Donnie Brasco," "Goodfellas" and, briefly, in "The Godfather." Mortenson studied those, too.
"I've got to tell you," Vallelonga said, "on set, I would turn around and see my father."
Talking about Ali's performance as Don Shirley — whom he also knew personally — Vallelonga added that it was "the first time ever with a genius playing a genius."
For his part, Mortensen said he had a hunch he'd get along with Ali, based simply on that first meeting back on the award-season trail when they were both seeking shelter from the red-carpet grind. What he found, though, was a kindred spirit.
"It turns out he's just as detail-oriented as I am," the famously meticulous Mortensen said of Ali. "He wants to get the most out of every take, every moment, and he's also extremely generous as an actor and as a person.
"So I felt like there was no limit to what we could do with the relationship, because I could feel he was rooting for me as much as I was rooting for him. I wanted him to be good in every scene we had together, and he wanted me to be good. And when that happens, surprising things can happen, just little touches that make it funnier, that make it more moving when you have that kind of teamwork."
Two-time Oscar nominee Mortensen, who is every bit as friendly and down-to-earth in real life as his characters tend to be intense and intimidating on-screen, also heaps no small amount of praise on Farrelly.
That might come as a surprise to those familiar with Farrelly's very un-Mortensen body of work. It has consisted of a decidedly broader brand of comedy, including such films as "There's Something About Mary," "Dumb and Dumber" and "The Three Stooges," all of which he co-directed with his brother, Bobby Farrelly.
But while there aren't traditional jokes and punchlines in "Green Book," there is a good deal of humor, most of it drawn from the odd-couple relationship between Mortensen and Ali's characters. That's where Farrelly's well-practiced touch was vital, Mortensen says.
"It's a fun story. You walk out feeling different. That's the magic of movies. That's why I got into it, as a kid," Mortensen said. "I loved it when you walked out of a movie and you're like, 'Oh yeah. This is where I am.' You almost forget where you were because you're taken along. You're swept along on a journey.
"And the fact that it also contains messages about how to deal with ignorance and how to improve on that, in terms of how you relate to others. I mean, that's great. That's very rare that those elements are all combined in one movie so successfully as Pete Farrelly has done with 'Green Book.'"
If there's a downside to it all for Mortensen — aside from having to lose the 45-plus pounds he put on for the role — it's that the success of "Green Book" could very well mean another trip through the grueling red-carpet marathon that is Hollywood's award season.
But at least this time, when he feels like he needs to take a breather from it all, he knows he'll have Mahershala Ali in his corner.