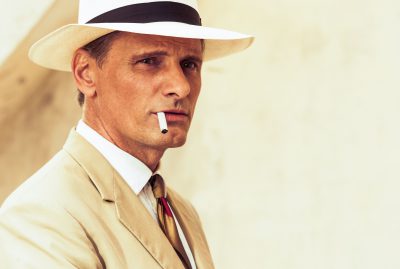 In Berlin last February, Viggo Mortensen was hyped about The World Cup. The Danish-American actor, who was raised in Argentina and currently lives in Madrid (with Catalan actress Ariadna Gil, his co-star in Alatriste and Appaloosa), told journalists that he'd only support Spain if his beloved Argentinian team were knocked out.
The 55-year-old actor, who rose to fame as the last minute replacement over Irishman Stuart Townsend in the role of Aragorn in Peter Jackson's The Lord of the Rings, is a man of the world. In recent years he has leant towards independent filmmaking, notably forming an alliance with David Cronenberg over three films: A History of Violence, Eastern Promises and A Dangerous Method. He carefully chooses the directors he works with.
"I like pushing people who themselves put themselves in uncomfortable positions," he notes.
Of late, he has opted for three directors with little experience: Hossein Amini for The Two Faces of January; Argentine director Lisandro Alonso for the French film Jauja, about a father and daughter who venture from Denmark into an unknown desert; and director David Oelhoffen for another French film, Far From Men, based on an Albert Camus short story, l'Hôte, about a French teacher in a small Algerian village during the Algerian War who becomes involved with a dissident. "It's a very challenging story and I like a challenge," Mortensen says of the latter. "I speak far better French in the film than I normally do."
After popular screenings at the Sydney Film Festival, The Two Faces of January is now in Australian cinemas. British-Iranian Amini may have been an experienced screenwriter (Drive, Snow White and the Huntsman, and he was Oscar-nominated for 1997's The Wings of the Dove), yet he was grateful to have Mortensen's support while directing his first feature, based on Patricia Highsmith's little-known 1964 tome.
"Viggo was like a partner through the whole thing," Amini explains. "He came on first and went to different financiers to help get the film made. I was given a lot of freedom, which is very rare, and a lot of that came from having Viggo, because he's incredibly protective of his directors. I felt safe creatively."
Amini admits The Two Faces of January is not the best of Highsmith's books, yet it had him hooked from the first time he read it 20 years ago. "There was something about the three lost characters that stayed with me. It's the only book I've read that I really wanted to direct because I felt I understood Chester's character. I don't know why, it doesn't say good things about me, but I understood his jealousy and meanness to the people he loves, and I wanted to tell his story."
In his screenplay, Amini has, in fact, cleaned up the character. Well, at least initially when we see a dapper Viggo Mortensen in a crisp cream linen suit and his wife Colette (Kirsten Dunst), resplendent in a chic yellow dress, roaming around the Acropolis in Athens. There they meet an American multi-lingual tour guide, the scam artist Rydal (Oscar Isaac), who helps them navigate the ancient city. When Chester gets into trouble with the authorities, Rydal, who is already implicated by this time and also has yearnings for Colette, suggests they all travel to Crete to stay out of the spotlight.
"It's the idea of The Great Gatsby, bathed in beautiful and golden light, basically Rydal's image of what he wanted his own dad to be like," Amini notes. "Because of the way he looks, Viggo allows the character to have that heroic, mysterious persona."
The story, like so many of Highsmith's novels (including The Talented Mr. Ripley and Strangers on a Train which was turned into a movie by Alfred Hitchcock), mostly focuses on the story between the men.
"At first, The Two Faces of January seems like a love triangle but at some point Highsmith takes the woman out of the equation and has the two men go at each other," Amini notes. "Heat is one of my favourite films and I love this idea of two men who have some sort of respect for each other and become intertwined – yet one has to destroy the other. I found that really fascinating."
Amini says he never would have had the chance to direct without the success of Drive, where he had first met Isaac, the former AFI best actor award winner for Robert Connelly's 2009 film, Balibo. The actor has gone from strength to strength of late—as the title character of the Coen Brothers' Inside Llewyn Davis, and the Guatemala-born New Yorker (who can play almost any nationality) is currently filming Star Wars: Episode VII for J.J. Abrams.
Amini can see similarities between The Two Faces of January and Drive, which was based on James Sallis' novel.
"I like characters being defeated somehow," he admits. "In The Two Faces of January, it's the Greek idea that the gods play these tricks on men, in a way that death takes us all in the end and it's really what we do and how we behave. There's that rhythm in life where you can be in the best of spirits, yet age catches up with you. You can be the greatest filmmaker and people forget your films. It's a pessimistic worldview but I do find it fascinating."
Mortensen was attracted to the mystery of Chester. "As an actor, it's nice to have a secret," he says. "Even when there's no secret in the screenplay I always try to find one. Film noir characters need to have shadows. They need to love and lose and for things to end badly. They have masks that fall away and what you end up seeing is ugly and embarrassing. When the films are well done, no matter how badly the characters behave, you're always on their side and want the cops not to capture them. You live vicariously through these very bad people."