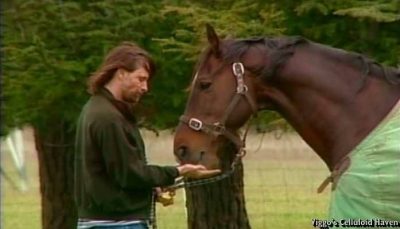 Viggo Mortensen found the time he spent with horses while filming Lord of the Rings helped him remain calm and focused.
There's a lot of horseplay in the Lord of the Rings movies, and that suits Viggo Mortensen just fine. A horse enthusiast all his life, Mortensen felt the animals were vital to his character, Aragorn. In the epic story, Aragorn is a human who assists hobbit Frodo Baggins on his journey to destroy The One Ring. Once they split up, Aragorn leads troops in battle against the forces of Mordor while Frodo proceeds on his own. It's a complicated story, in which Mortensen felt the horse played a vital role.
"That's just another relationship my character has in the story," Mortensen said. "In the extended cut of the second movie, you see he meets his horse, he's kind to it and the horse comes and rescues him and then carries him through the rest of the story basically."
Mortensen's passion for horses is simple. "I just feel calm when I'm around them, just interacting with them. I think people have that relationship with dogs and cats and whatever. People can be afraid of horses and rightly so. They're big and can be dangerous. You have to be careful."
That serenity was a source of relief for Mortensen during the trilogy's epic 16 month shoot. Visiting the horses at the stable during his off days kept him invigorated. "When I would go out there, I'd be really tired, I'd be driving, it'd be an hour or something to the stables, and I would think 'I'd really like to stay in bed.' But by the time I got together with the horse and got the horse ready, got on the horse and went out riding, all the stress and the tiredness would just go away. By the time I was done riding and washing the horse and on my way back to town, it was almost like I'd taken some very pleasant drug. [I felt] just very calm and glad to be alive and noticing the trees and what not. And ready for the week."
It was important to maintain his skill because weeks would go by without riding scenes, and suddenly the horses would be called back. "There were times when we would work months and months and months without breaks. I personally would work six day weeks every week, always at least 14-15 hours and towards the end, we were all going 16 or 17 [hours]. So on Sundays, you'd sleep in a little bit, but out of habit we'd probably get up pretty early. And I'd go put my laundry in the washing machine and go see the horses, just to stay in tune with them because you might have shot a whole week or two weeks in a row without them. They would throw scenes at you or terrain and you'd better be ready."
Mortensen credits the horses and their handlers with making the shoot go smoothly. "We did ride a lot and not all the riding scenes are in the [finished film]. I think we had a pretty good group of horses overall. I mean, people did a lot of difficult things on horseback in these movies, and really very few injuries and nothing very serious for any of the horses, and very difficult terrain. So they were good."
The final part of the trilogy, The Return of the King, opens December 17.