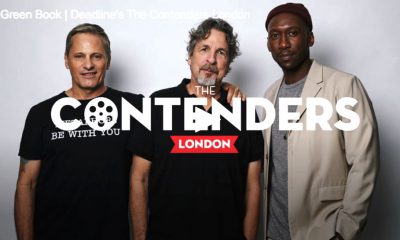 Peter Farrelly's Green Book continues down its awards-season road after its debut at the Toronto Film Festival, where it won the People's Choice Award, a key Best Picture Oscar predictor. The heartwarming and hilarious road movie, about the burgeoning friendship between Tony "Lip" Vallelonga, a prejudiced nightclub maître d hired as a driver, and Don Shirley, a black jazz pianist booked on a tour of the southern U.S., has been universally embraced ever since.
Farrelly joined stars Viggo Mortensen and Mahershala Ali recently at Deadline's The Contenders London to discuss the film.
"They were stuck in a car together for two and a half months," said Farrelly of the true story the film is based on—it is co-written by Tony's son Nick Vallelonga. "It was actually over a whole year and we cut it down to two months. People say, 'What's true, what's not true?' It's all true. I believe if you get any two people on the planet together for two months in a small space they are going to grow closer. They're going to learn about each other and cut through all the bullsh*t and the walls and cut through all the preconceptions and grow closer."
The pair's friendship endured for more than 50 years. No small wonder, after everything they went through on the tour. As Ali pointed out, Shirley didn't have to tour the segregated American South.
"He wasn't in need financially," he said. "He could have gone to Europe and toured, or stayed up above the Mason-Dixon line and toured there and made money; he was doing fine. Him going down through the segregated South during this time was really a choice to put himself on the front line and expose the South and that community to a man that was educated, cultured and intelligent in a manner that went beyond the stereotypical point of view of a white Southerner at that time. He was there trying to push the boundaries by his sheer presence."
Mortensen hopes the accessibility of the film changes minds. "[People are] going to go see this movie because it is so well made and so entertaining and they're going to come out I think thinking differently. Whether they come out and say it—whether it's completely conscious—you can't possibly come out without being affected by what Mahershala's character goes through, what we go through, and the lessons my character learns on this journey."
Check out the conversation above.