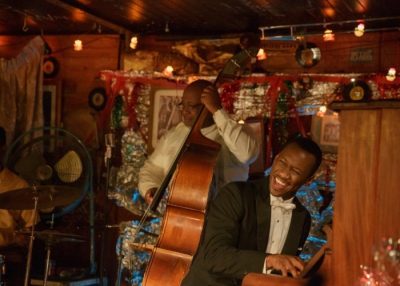 The late pianist Don Shirley (1927-2013) straddled the worlds of jazz and classical throughout his prolific career. Born in Jamaica, Shirley was a piano prodigy, debuting with the Boston Pops Orchestra at the age of 18. Through the 1950s and '60s, he released dozens of albums on Cadence Records from meditations on ancient Greek myths to straightahead interpretations of the Broadway hit parade. He had a measured sound, fond of chamber-esque instrumentation and poise, more introspective than raucous.
The new film Green Book is an embellished look at Shirley's two month tour of the American South in the early 1960s. Directed by Peter Farrelly and starring Mahershala Ali as Shirley, the film is a sweetly turbulent road trip, full of holiday warmth and period pop songs. Viggo Mortensen co-stars as Shirley's brash foil, Tony Lip, an oafish Italian-American bouncer whose anger has limited his options for regular employment. Young jazz pianist Kris Bowers wrote the score and more.
The title of the film comes from a guide book published and used by African Americans in the 20th century to help navigate the hostility of a divided America with a listing of black-owned and non-discriminatory businesses throughout the country. Long before the internet, it was the most respected and widely-used source for bypassing the antagonism of segregation, like a AAA guide that also takes into account virulent racism. It was an indispensable guide whose purpose is rather understated in the film. For those looking for a history of the green book and its relevance to American history, this is a good introduction, but far from a deep dive into a sinister necessity for many travelers. The movie is primarily focused on the relationship between Ali and Mortensen, an inverted Driving Miss Daisy with a better sense of swing.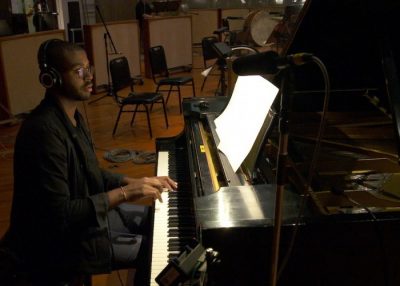 "The first time I heard about him was when I got the script," said Bowers of Shirley by telephone. "He reminded me a lot of other musicians from that era dealing with similar things—John Lewis, Nina Simone. He was another person trying to figure out how to showcase his classical training and his music."
While Shirley was a prolific and successful artist in his time, his legacy has faded since the release of his last album in 1972, The Don Shirley Point of View. His delicate precision and cross-genre style fell between the cracks of music history, neither heralded by jazz circles nor the classical world. When he died at the age of 86, much of his catalog was out of print.
Ali plays Shirley as a man often too refined for his surroundings. Mortensen is his foil, out of his comfort zone in virtually any environment that isn't close to a pot of bubbling red sauce. Ali first appears on screen as a robed mystic living above Carnegie Hall. Mortensen opens the film busting heads on behalf of the Copacabana nightclub's management. Both characters move toward an agreeable center the further south they travel, bonding before a backdrop of roadside attractions and concert venues that range from living rooms to concert halls.
Bowers has been making waves writing for film and television during the past five years. In 2011, he won the Thelonious Monk Piano Competition and in 2017 a Daytime Emmy award for his music on the new children's classic A Snowy Day. He also has scored documentaries about Norman Lear and Kobe Bryant, but Green Book is his biggest scoring endeavor yet.
"I've been wanting to do this since I was eight. It's always been a part of my life plan," he said.
While a student at Julliard, he took orchestration classes, preparing himself for countless situations. Bowers was given a lot of room to explore, more than he expected. "[The filmmakers] let me write something that fits. A lot of times you have to match temp music or appease a director, be someone they couldn't afford to hire," he said, despite not being the only person hired to write music for the movie.
Ali's piano performance is wonderfully convincing. He parries from glowing Steinways to juke-joint uprights with a natural flow that looks as though he had been playing piano for years. He had not: Bowers was Ali's piano teacher.
"He's a really quick learner," the pianist said about Ali. "I figured we'd start with a major scale. He played the C major scale for three hours. He was so intensely focused I had to interrupt him physically to get him to stop."
There were a few scenes that Ali's skills were not up to snuff, though. Bowers' hands were offered an acting opportunity, serving as Ali's stand-in. "Having to learn all that music was pretty scary," Bowers said. "I went back to practicing eight or nine hours a day. It was nerve wracking to get those things done in one, two, maybe three takes. They're not going to spend an entire day to get one song right."