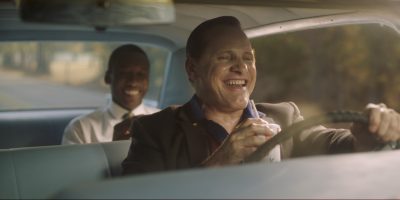 LOS ANGELES – It was the third course, really, that did him in.
Viggo Mortensen was prepping for "Green Book" (in major markets Friday), in which he packs on the pounds to play a working class Italian-American, Tony Lip (real name: Frank Anthony Vallelonga). In the film, Lip checks his racism in 1962 New York to earn an income chauffeuring a world-class black pianist, Don Shirley (Mahershala Ali), in the Deep South.
Mortensen, 60, who is Danish-American, recalls flying in from his home in Spain to meet Tony's descendants at a New Jersey red-sauce joint still owned by the family.
And the Italian food just kept coming. "Oh my God," he says. "The first thing was, 'Let's go to the kitchen and have (Tony's wife) Dolores' meatballs.' But I was already full. I hadn't gained all that weight or expanded my stomach (yet)." Then came the antipasti, and a second course, and a third. Mortensen struggled to finish his plate. "And then they're looking at me like, 'He doesn't like it.' … 'No, no! It's great!' "
Afterward, "I made a good show of going out to my rental car and getting in it, and I just drove around the corner and parked, cranked the seat back, undid my belt and laid there for an hour," he says with a grin.
"Green Book," a flip on "Driving Miss Daisy," is based on a true story and doesn't cut corners: The film shows the blue-collar Tony hurling epithets common to the period – a contrast to the reserved, regal pianist he drives – and touches on police brutality. (While discussing the era at a recent Q&A for the film, Mortensen invoked a racial slur in describing what's no longer permissible, for which he has since apologized.)
But the movie, which is largely a road comedy, also is based on a real travel guide. The Green Book, which began publication in the 1930s, was a pamphlet that mapped where African-Americans could find safe lodging across the country. Before filming, the cast thumbed through old copies.
"They're pretty straightforward," Mortensen says. "And they're not that thick, because obviously the farther South you get, there's not that many places they could stay."
Ali compares a 1960s-era AAA travel guide to a Green Book: "One is saying, 'Explore America! This is how you come see Niagara Falls or the Grand Canyon or the Alamo!' … And the other one is telling you, as a black person, 'This is how you survive when you get there and not die.'
"What year can you point to and say that's when the mentality changed? That this was all open to all of us?" asks Ali, who signed on to "Green Book" shortly after winning his first Oscar for "Moonlight" in 2017.
As Tony and Doc Shirley drive farther South, where the classically trained musician's wealthy, white audience throws open their salon doors but won't let him use their bathrooms, a deeper appreciation of each other grows. "For me, it's a movie about the limitations of first impressions," Mortensen says.
Prognosticators are paving a road to Oscar for "Green Book," which boasts a 92% "fresh" rating on Rotten Tomatoes. The film quietly entered the Toronto International Film Festival in September, emerging with the festival's top prize. Now the film is predicted to be a top contender for the best-picture Oscar.
The reaction at that first screening shocked even those who made "Green Book." "We all started crying, because we had never played it before for a big crowd," says director Peter Farrelly.
Many Hollywood insiders also believe it's Mortensen's turn to win a gold statue, after two best-actor nods for "Captain Fantastic" and "Eastern Promises." On the awards prediction site GoldDerby.com, he has 4-to-1 odds of edging out Bradley Cooper ("A Star is Born") and Christian Bale ("Vice").
GoldDerby founder Tom O'Neil calls "Green Book" a "sleeping giant" at the Oscars this year that could trigger "lots of upsets." And despite a tight race for best actor, "Viggo has some strong pluses," he says, citing the actor's radical physical transformation and the respect he holds inside Hollywood. "Voters love to catch up with beloved industry veterans who are ridiculously overdue to win."
Away from the red carpet, Mortensen lives by his own rules. He's still the proud owner of a flip phone, his one Luddite pleasure (well, aside from sending postcards to friends), and is in the midst of a self-made avalanche of responsibilities: an upcoming film he's directing, a publishing house he runs, a new book of Spanish poetry he's releasing.
He knows himself: "If I added social media and Instagram and Twitter, I'd never get anything done."