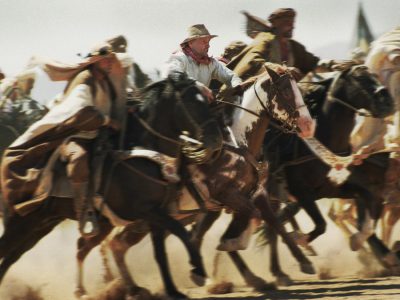 It may prove to be a bit of an irony that in a day and age when the word "cowboy" is bandied about carelessly, even derogatorily, that the recently released Disney film Hidalgo courts a message to the contrary—and, we think, a rather well-received message: cowboys are good guys, and what they represent can be found worldwide in men who love horses.
Starring Viggo Mortensen, Zuleikha Robinson, and Omar Sharif, Hidalgo, scheduled for release March 5, was directed by Joe Johnston, produced by Casey Silver, and written by John Fusco, whose screenwriting credits include the animated film Spirit: Stallion of the Cimarron. Filmed on location in California, Montana, South Dakota, and Texas, but mostly in Morocco, Hidalgo's titular star is a horse by that name.
Five American Paint Horse Association registered Paint Horses actually played the starring role, and renowned horse trainer Rex Peterson was instrumental in finding as well as training them for their "parts."
Essentially, Hidalgo tells the fact-based story of American cowboy and long distance endurance rider Frank T. Hopkins and his Paint Horse, Hidalgo, who travel to the Middle East in 1890 to compete in the centuries-old Ocean of Fire, a 3,000-mile horse race across the Arabian Desert—a race for survival traditionally restricted to the purest lines of Arabian horses owned by the country's most aristocratic, royal families. Against these elite equines and their antagonistic Bedouin riders, Hopkins pits his mustang Hidalgo—and himself—for not only money but also personal pride and honor, and along the way, they encounter a few seemingly insurmountable obstacles and death-defying adventures.
If your heart used to race when you watched the Lone Ranger ride Silver at a gallop, you'll love Hidalgo, but not simply because watching a galloping horse is a giant thrill. It's a classic adventure story with a message.
Plus it's a classic story of redemption, according to Hidalgo producer Casey Silver, who calls it a story with solid characters and narrative. "I think that this story is a little bit different, and a little bit original, and I think that that is a good thing at a time when a lot of movies feel homogenized and the same." 'Sound a bit like good old-fashioned whole milk with the cream on top?
For audiences who can remember and respect the Cowboy Code or love cowboys and the American West, it's not milk-toast. "The American cowboy exemplifies self-reliance," said John Fusco, the film's scriptwriter. "It doesn't matter if he's on his own turf or halfway around the world, he'll find a way to survive—as long as he's got a good horse."
While the continuous action, the cultural tensions, and the exotic costumes and landscape create a dramatic portrait, it's the relationship between the cowboy and his horse that spurs viewers emotionally, to care—an aspect unique to the nature of the American cowboy and his traditional "pardner." Audiences relate to the connection.
Fusco seems to think Hidalgo will succeed, "because an American audience is ready for a return to the movies Hollywood used to make," he said. But the relationship between Hidalgo and Hopkins fuels a realism that strikes a chord with audiences familiar with the cowboy lifestyle. What may appear to be a shallow chitchat between horse and man is the basis for something deeper and more solid built by the realities of the range life.
Said Fusco, "I'm happy to say that the man and horse relationship in this movie is real. Cowboys don't pamper their horses and they don't adhere to New Age malarkey. We love our horses but they've got a job to do too. I think that the man and horse relationship is going to feel more authentic Cowboy than Hollywood."
And it doesn't hurt that Mortensen, who plays Hopkins, knows more than a bit about horses as well as acting, adding to the realism involved in the man-horse interplay. "Viggo is a man who is, in my opinion, very, very talented," said Silver, "and I was delighted when the studio agreed to cast him… He was terribly enthusiastic. He responded to the story—he is a great horseman… And obviously, that helped inform some of the thinking. But it just would have been harder to do well if we had had a great actor who wasn't as good of a horseman."
Based on an interview with Mortensen late last year by Fred Topel on HorseCity.com, Mortensen made a point to spend time with the horse stars of The Lord of the Rings film trilogy during breaks. He reportedly rode to maintain his skills and noted the calming effect they had on him after a stressful week of filming the often physically grueling scenes in the series.
One thing horse trainer Peterson didn't have to worry about was training Mortensen. "Viggo was a very good hand at horseback but wanting to be Frank Hopkins," he said. "He worked very hard—you know we had seven weeks prep. Viggo was there almost every day riding. He wanted to know the horses and what he could do on each horse. Viggo was very good. You do not get that very often.
"I've worked with a lot of actors. There's some that I don't care to work for again, but I think Viggo was by far my choice to work with…" said Peterson. "We'd do long runs and stuff. Viggo was liable to get off and lead the horse back to number one and let the horse rest. I mean he's that nice of a guy and takes that much care about his livestock… He's very considerate not only of me, of the animals, of everybody on the crew. So in that respect, he's a prince to work with."
And if Mortenson had a favorite equine, it may have been the "main horse," RH Tecontender, who, according to Peterson, went home with the actor, who bought him at the end of filming.
Mortensen, 45, went into Hidalgo with an exceptional resume that included a diverse array of more than 30 films, including Peter Weir's Witness (1985) and Andrew Davis' A Perfect Murder (1998). Born in Manhattan, N.Y., Mortensen spent his early childhood there but spent considerable time traveling with his Danish father and American mother. In addition to being a competent actor and horseman, he's a photographer, painter, poet, and musician with published work to his credit. To his credit for Hidalgo, Mortensen "has a cryptic charm that pulls the audience in," said Fusco.
While time will prove the success of Hidalgo at the box office, the longevity of the American cowboy in the psyche and hearts of moviegoers has proven itself already. It would seem his perennial appeal draws from what he brings to those around him, a rare breed of character to which others may aspire. Referring to younger audiences, Fusco said, "I just hope that they come to see a good adventure and leave realizing how cool the Cowboy Way is." May it be so for every age.
Acting Coach for Equines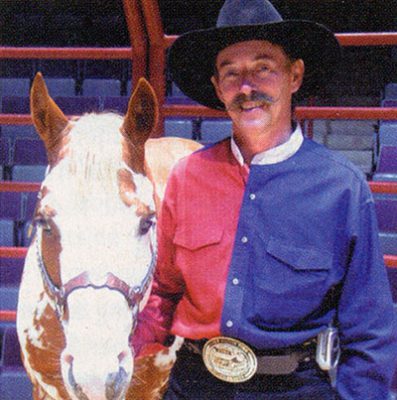 After 36–plus some–years of experience training horses, renowned trainer Rex Peterson, 50, is someone observers might suspect had done it all long before he headed for Morocco with two registered Paint stallions–two of the five Paints who "acted" in Disney's epic adventure film Hidalgo.
Actor Viggo Mortensen plays Frank T. Hopkins, long distance endurance rider who competes in the race of a lifetime, the Ocean of Fire, 3,000 miles across desert sand and rock.
Aside from the environmental conditions, the toughest challenges for Peterson involved some very unique stunts he never before had trained horses to do and that no doubt called for creativity and patience. "For Hidalgo, I had to teach Hidalgo to go over and grab the actor by the back of the neckerchief and drag him across the arena," he said. "It was something that everybody goes, 'How ya gonna do that one?'" Well, he did do it and all with 3-year-old stud, RJ Masterbug, unbroken at the start of filming.
Peterson did that and more. "We had to [train] the horse to fall into what they call a lion trap, a hole in the ground that's covered up and the horse runs across it and falls in with 'spears' in the bottom and stuff…" he said. "It wasn't a real easy film to do."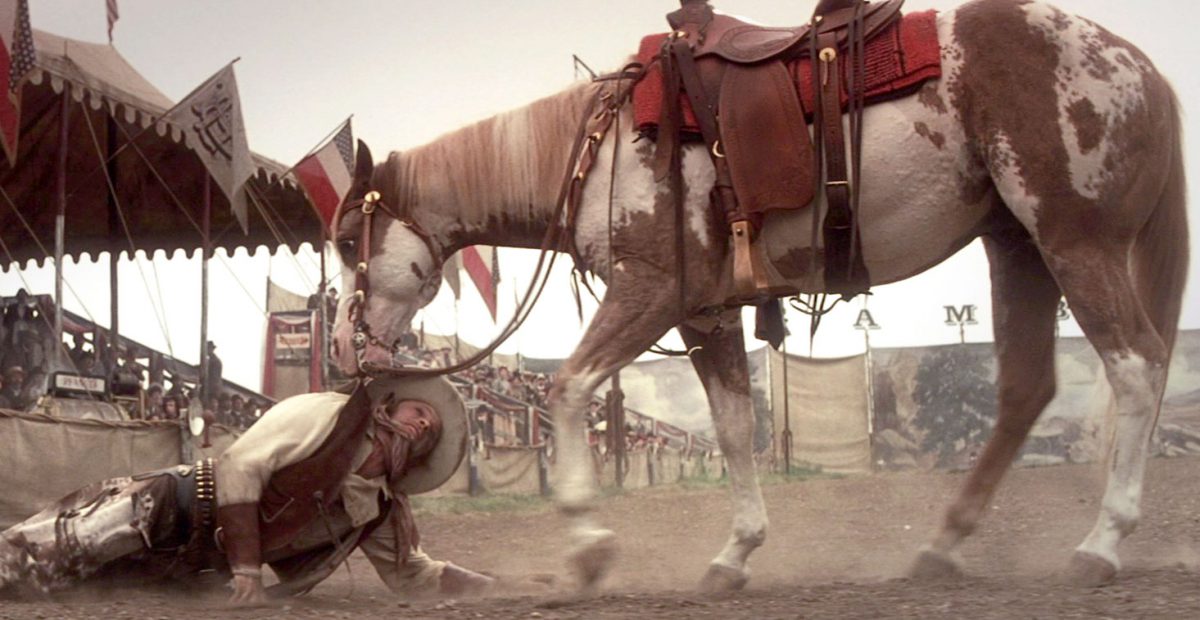 Images